About a dozen of the cruisers from Anchorage 9 accepted an invitation from Darrel and Laurel to snorkel an underwater cave. The water was clear and the cave was cool. About a 15 meter underwater swim – with faith – then you could surface inside the cave. Enough light seeped in through the water to have kind of a surreal twilight in there. Excellent.
Lee and I went scuba diving in Vava'u with the Beluga Dive Company. They took us through lots of neat underwater caves. In one of the caves we encountered a reef shark – maybe two meters long. The big fish sat still as a stone while we swam to within 20 feet of him. Another reef shark entered the cave and swam around ignoring us.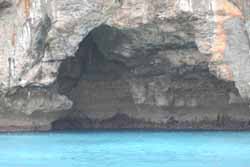 The dive master led us to a broken underwater mountain. The mountain was several hundred feet high and it was split right down the middle with a 10 foot crack between the sections. We swam through the crack. It was awesome to hover in the water and look up at the muted sky above and then the sea floor below. There were all kinds of sea life living and thriving in and around the mountain.
The dive finished up on some beautiful corral. Lots of stunning coral like other south Pacific locations, but the best was saved for last. A forest of stunning fan coral. Fan coral is like finely textured ferns growing underwater. They are a rare sight and beautiful beyond belief.