Annie Cline sailed with us for many weeks and helped make those multi-day Pacific passages easier. Things changed and her plans changed. So we thanked her, wished her well, and said so-long in Neiafa. That left us scrambling for extra hands for the passage to New Zealand.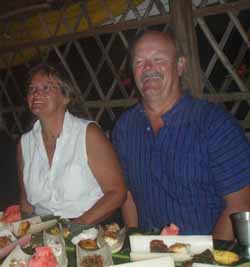 After doing numerous ocean passages, Sharon had determined not to do the passage to New Zealand. She felt she had enough of long distance passages. The 1000 mile passage to New Zealand would be the second longest and it has a reputation for being a tough sail.
We put an advertisement out on the Vancouver based, Blue Water Cruising bulletin board and were lucky to have Lee Wolff respond. Lee is an enthusiastic and adventuresome young lady.
She had some sailing experience and wanted to try off shore sailing. A dozen emails exchanged and the arrangements were made. She would fly to Neiafu, then sail with us down the chain of Tongan Islands, then make the jump to New Zealand.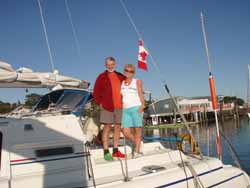 That gets us a crew of two – fewer than we wanted. In Neiafu, we send out feelers via the cruiser grapevine. After a couple of luke warm leads, friends Cliff and Anna on the catamaran Koncerto, pass on the name of a New Zealand sailor – Graeme Templeton. Graeme was looking for more offshore experience on catamarans. Another half a dozen emails, a few trips to see the Tongan officials and the airlines for one way air tickets and a deal is forged. Graeme is to meet us in Nukalofa – the capital of Tonga and most southerly port in the Islands. He would sail the 1000 mile passage to New Zealand. New crew pictured at the right!
This crew jelled beautifully. The passage was challenging, but fun and everyone pitched in, did their job and we had a fine off shore passage to New Zealand.