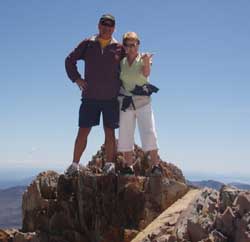 We were delighted to host my sister and her husband in New Zealand. We zoomed all other the North Island visiting sites and doing adventure tourism things. We had a blast.

In the middle of the North Island of New Zealand there is a great big lake called Taupo. Not far from the lake there is a national park named Tongariro. Tongariro National park has three main active volcanoes.

Mount Tongariro which was active while we were here;
Mount Ngauruho which was filmed as Mount Doom in Lord of the Rings
Mount Ruapehu which we climbed.

Here are a few pictures of this wonderful New Zealand park.