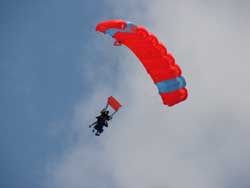 Nearly everywhere you go in New Zealand you can see people jumping out of airplanes. In this adrenaline addicted country sky diving is a mainstream sport.

We sprung for the extra $150 dollars for another sky diver to film the action. He made a wonderful video but it is much to big for the web.


So you can see a few pictures of the jumps we did here.

When you see Rae and Sharon ask to see the video. Very cool.