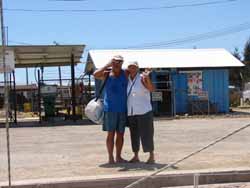 It was to be the Great Race - Rae and Sharon style. One thousand and forty one nautical miles - Nuka'lofa, Tonga to Opua, New Zealand. After sailing from Vancouver to Tonga, Sharon decided to avoid the thrill of the notoriously tough passage to New Zealand. She exercised the Princess clause and took the plane. Rae sailed. Does the race seem a bit one sided?
With fresh crew - Lee Wolff from Vancouver and Graeme Templeton from New Zealand, Mustang Sally was out of the gate and on her way racing south in rough powered up beam reaching conditions. Sally was knocking off 185 mile days under a double reefed main and partially rolled jenny.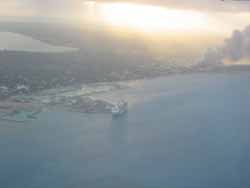 Sharon was trapped by a 'Kingdom burning' party in Tonga. A alienated section of Tongan society went on the rampage during an alcohol fueled protest against the new king. A peaceful protest had run amuck.
Many of the King's properties were burned and Tonga moved a step or two closer to democracy – or perhaps anarchy – time will tell.
Peripheral damage:
· Chinese businesses burned;

· eight dead;

· 80 percent of downtown burned;

· many Tongan hangovers;

· an airport closure; and

· a sweet Canadian gal trapped without a way out.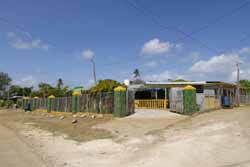 Sharon huddled in the safety of a local transit lodge with her new Aussie friend Angela. They were safe but the rioting and burning was going on around them. The days passed slowly as they waited for the situation to settle and the airport to re-open.
The Kiwi and Aussie air forces arrived over the next four days to secure the airport and help Tonga recover stability. Sharon and Angela were evacuated to Sidney on the Royal Australian Air force jet.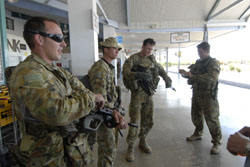 On arrival, Sharon was met by the Canadian consulate, Australian Federal police, trauma teams and the press. The press questioned her about the situation in Tonga. Several Aussie newspapers and BBC World News published her comments. Over nighting in a hotel, Sharon was surprised to see her self on the BBC World News. The next day she booked a flight to Auckland, New Zealand.
Meanwhile, on Mustang Sally the wind faded then turned variable. Mustang Sally had found the horse latitudes. The boat slowed. Rae issued orders for all horses to be thrown overboard.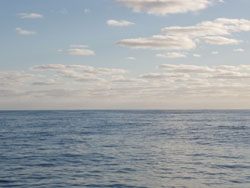 The twin diesels kept the boat moving south at 4-5 knots. The wind was on again off again, but never on for more than 8 hours. The days rolled on….. tuck a reef, shake a reef, roll a reef. Light up the diesels, shutdown the diesels, repeat.
At long last, 100 miles north of New Zealand, Mustang Sally found the predicted westerly winds. Soon they were close reaching south at 7-8 knots over smooth seas.
Sharon over nighted in downtown Auckland then grabbed a bus for Opua. She arrived at 5:30PM in Opua and headed for the Cruising Club where she ran into friends Cliff and Anna from a catamaran named Koncerto. Cliff and Anna graciously invited her to stay aboard until Mustang Sally arrived.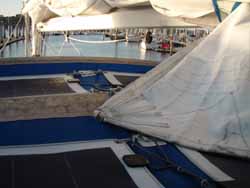 12 hours later on Mustang Sally - 40 miles north of New Zealand - the wind strengthened suddenly and the boat shot ahead reaching 9 - 10 knots on a beat. "Time for a reef" – Rae shouted. BIG BANG! The clew pulled out of the main sail and it thrashed useless in the wind. Ten minutes later the mainsail was reefed down and pulling hard. Mustang Sally was charging south at 7 knots.
Twenty miles out of Opua, dead calm descends. With the twin diesels powering, Mustang Sally crept carefully through the Bay of Islands in inky black, clear and cold conditions. Temperate zone damp cold chilled to the bone. Foulies on for the first time in 18 months.
The navigation system steered flawlessly while skipper and crew nervously checked and re-checked positions and course using radar, GPS, charts and navigational aids. Mustang Sally docked at the Opua as the morning sun turned the sky pink.
Two hours later, Cliff delivered Sharon to Mustang Sally. Sharon and Rae are re-united. They popped a bottle of champagne to celebrate the race. All were pleasantly buzzed well before noon.
Sharon won the great race. Sharon 6 days, Rae 7.5 days.
hic...